Logo Design Services in Tampa, Florida
Create an Impactful Visual Identity: At Magic Works Media LLC, we offer professional logo design services in Tampa, Florida, that can help businesses establish a strong visual presence. Our goal is to provide high-quality logo designs that effectively communicate your brand message and leave a lasting impression on your target audience.
Creating Memorable Logos that Stand Out
In today's competitive business landscape, having a memorable logo is essential for building brand recognition. Our team of talented designers in Tampa, Florida, specializes in creating unique and eye-catching logos that capture the essence of your business. We combine creativity, strategic thinking, and the latest design trends to develop logos that stand out from the crowd.
Custom Logo Designs Tailored to Your Business
We understand that every business is unique and has its own identity. Our logo design services in Tampa, Florida, are customized to meet your specific needs and preferences. We take the time to understand your business goals, target audience, and brand personality to create a logo that reflects your values and resonates with your customers.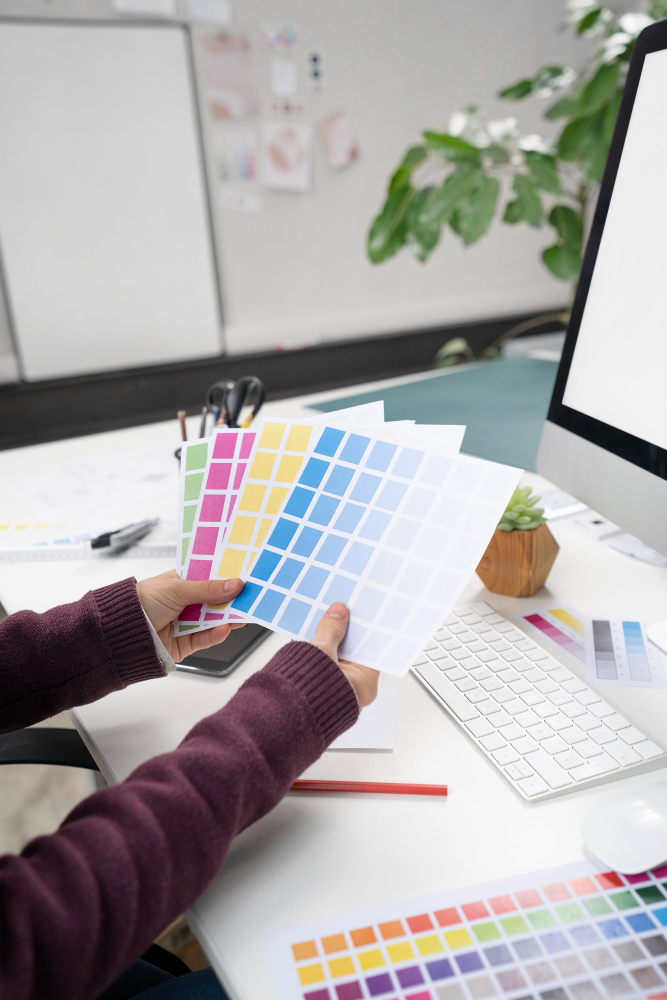 Boost Your Brand with a Thoughtfully Designed Logo
A well-designed logo can significantly enhance your brand's visibility and recognition. At Magic Works Media LLC, we understand the power of an impactful logo design that aligns with your business objectives. Our designers in Tampa, Florida, will work closely with you to create a visually appealing logo that effectively communicates your brand story.
Professional Logo Designers in Tampa, Florida
Our team of professional logo designers in Tampa, Florida, brings years of experience in creating impactful designs for businesses across various industries. We pride ourselves on our ability to understand your vision and transform it into a visually stunning logo that represents your brand's values and unique selling points.
Seamless Design Process with Client Satisfaction in Mind
We recognize the importance of a smooth and collaborative logo design process. Our team in Tampa, Florida, will guide you through the entire process, from initial concept development to finalizing the design. We value your input and feedback, and we will work closely with you to ensure that the final logo design exceeds your expectations.
Get a Customized Quote Today
We make it easy for businesses in Tampa, Florida, to get a customized quote for our logo design services. Simply click the button below to contact us and provide details about your project. Our team will promptly get in touch with you to discuss your requirements and provide you with a personalized quote.
1. How long does it take to design a logo?
The time required to design a logo can vary depending on the complexity of the project and the number of revisions needed. On average, our team of designers in Tampa, Florida, can deliver a finalized logo within 2-3 weeks.
2. What is included in the logo design service?
Our logo design service in Tampa, Florida, includes an initial consultation to understand your business needs and goals, the design process itself, unlimited revisions until you are fully satisfied, and the final delivery of files in the necessary formats.
3. What if I don't like the initial logo design?
At Magic Works Media LLC, our priority is your satisfaction. If you are not satisfied with the initial logo design, we will work closely with you to understand your feedback and make the necessary revisions to achieve a design that meets your expectations.
4. Can I request changes to the logo design after it's finalized?
Yes, we understand that needs and preferences may change over time. If you wish to make changes to your logo design after the final version has been delivered, we will be happy to assist you. However, additional fees may apply depending on the nature of the requested changes.
5. Do you offer other design services besides logo design?
Yes, at Magic Works Media LLC, we offer a wide range of design services, including graphic design, website design, and commercial signage design. Our team of designers in Tampa, Florida, is ready to help you create a cohesive and visually appealing image for your business.
Conclusion
At Magic Works Media LLC, we are committed to providing top-notch logo design services in Tampa, Florida. Our focus on creating impactful and visually appealing logos can help your business establish a strong brand identity. Don't miss the opportunity to create an impactful visual identity for your business. Contact us today to get your customized quote and start building a strong brand presence in Tampa, Florida!
8606 Hunters Village RD 250 Tampa FL 33647